My journey - Devmalya Biswas
The first time I saw a drone was in a traveller bag advertisement- it leapt out of the bag zooming into the air. I was astonished seeing anything fly- rockets, planes, and now drones. That was the beginning of it all, my obsession with multirotors back when I was in the 8th grade. I used to pester my dad all the time to buy me one, and that is when he said, "Try making one". I did try to make one, but the academic situation didn't make it feasible.

It was after my 10th boards, right in the beginning of 11th standard, that someone I knew wanted me to make a multi purpose crop dusting multirotor and was ready to fund me. So, me being me, also added a small FPV quad in the budget. I finalised my custom quad build plan after watching 100s of hours of youtube instructional and build videos. And if it got way too tiring, those random FPV quad cinematic shots were used for sending chills down my spine. That was how I got more into FPV instead of drone racing. FPV means first person view- you basically strap a camera to your quad and wear a VR headset which live streams your quad camera feed. That's the same case with drone racing too, rather all quad flyers wear it, but the way FPV differs is that there is no competition. You fly only for your own high, doing tricks and flips in mid air, moving at 100mph and seeing it in front of your eyes- best endorphin rush you can have without even moving! You really need to see one of those FPV cinematic videos to know it- and realising that you actually see it live right in front of you, feeling as if you are there, instead of a video on a laptop.

Getting back to the quad, I actually made it in just a couple of days, the FPV one, that is. Though that was more than a month of wait after ordering the finalised parts from Aliexpress (Trash but super cheap chinese amazon with month long delivery times xD). The building part of the drone isn't hard. I had the parts ( I was building a 210mm FPV quad), didn't know much about anything in detail, but had enough skills to put it together. And so I did. But what came next was unexpected. I believed it would just zoom right into the sky and I would have the most cinematic experience ever. Reality check- it didn't even turn on.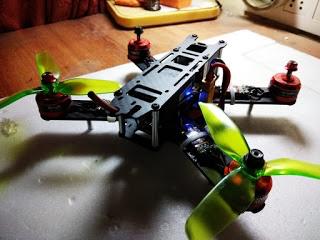 And after another week of tuning and turning did I realize that building the quad was the trailer. Configuring it to actually fly is the hardest. So then did I do what I should have long back. Learn how it works. I went through the electronic theory basics, not much into mechanical since I wasn't scratch building it, and learned all the ins and outs. It took me two more days to strip the whole thing down and then rebuild, now equipped with everything I had learned. Well this time, I'm proud to say, it did turn on :3

Another few days of tuning it and it was all ready to fly stably. And it did fly stably, that is right before I crashed it. It was drone racing, there's a good reason people get paid a lot to fly them. I had to then put in time to learn how to fly and race quad, and for that I took to a quad racing simulator (LiftOff) since I didn't exactly have the budget to ruin this and build another one. That took some more time, and in the end, I did learn how to get it off the ground and move around nice enough. I wasn't any professional quad racer or FPV pro, and given there's a considerable gap between operating a sim and racing a quad in real life, I put in the hours and learned it enough for my own satisfaction.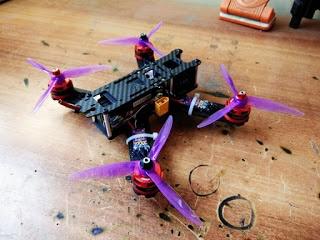 All in all, it was a complicated but sweet experience. There's infinitely better ways one could go when approaching racing or FPV or building quads, but I'm happy with the way I did, since it was just for my own high and not to actually learn anything new. Hope you keep flying :')

Peace